ICED2019 Workshop on Design for Global Sustainable Development
Summary Report
Workshop participants conducted break-out sessions in four groups and presented their ideas on challenges and action items. The workshop leaders prepared a summary of these ideas. 
Workshop Minutes
Prepared by Melissa Greene.
Design for Global Sustainable Development Workshop
International Conference on Engineering Design (ICED19)
Monday, August 05, 2019
Meeting Minutes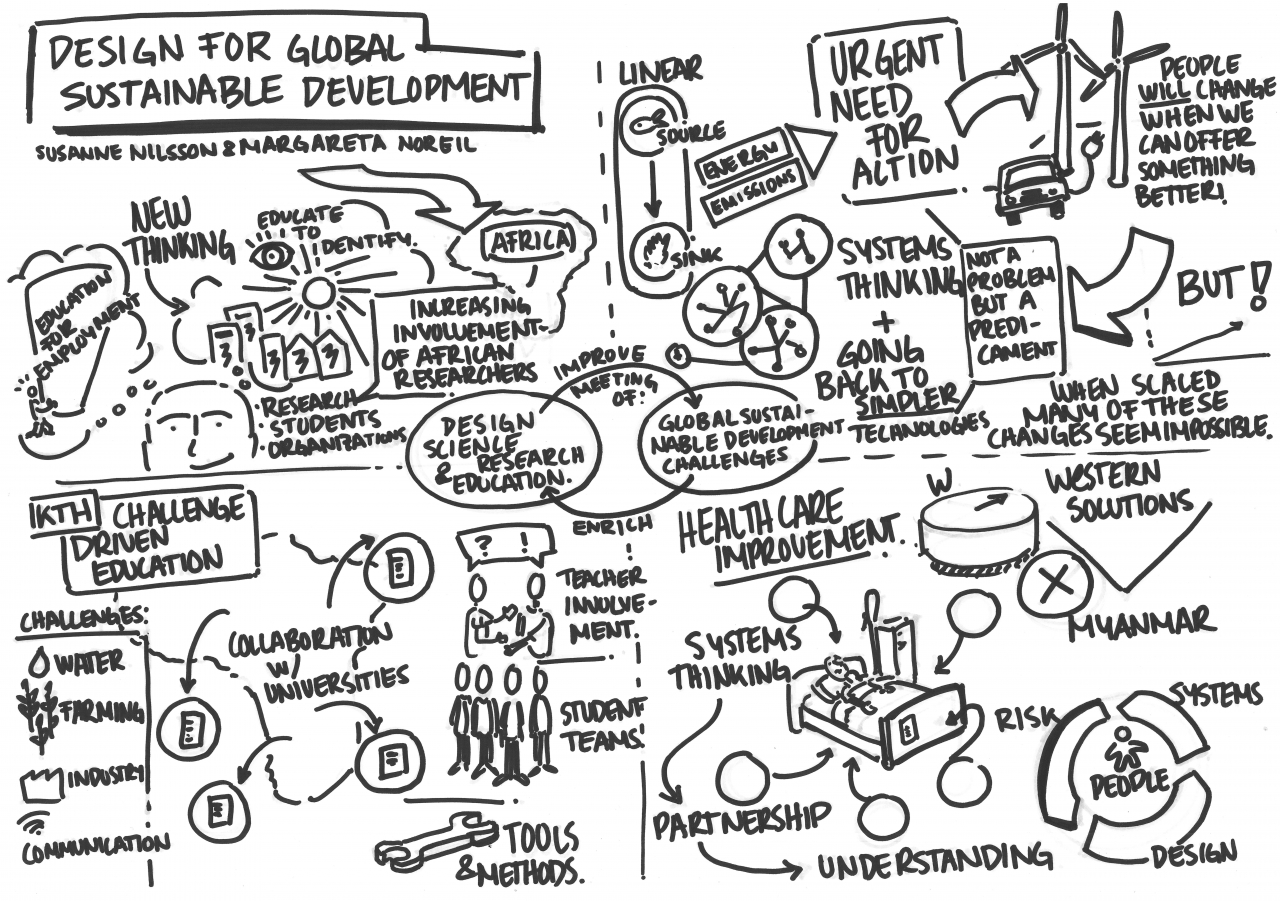 INTRODUCTION: PANOS PAPALAMBROS
The motivation for holding the workshop: increasing interest in design for sustainable development as it happens in developing countries
Specific interest in Africa because Design Society has almost no African members
Design Society is very interested in sustainable design and Africa presents the biggest opportunity and challenge over the next decade. Design Society needs to be more involved, learn what's happening, and help colleagues in Africa
New website for initiative (a subset of DS website)
Initiative: AFRICA DESIGN
Society will serve as a way to build a community/network of people interested in designing for sustainable development in Africa; connect teachers and students; researchers; etc.

Connecting teachers and students: students/young people should take charge with addressing UN Sustainable Development Goals

There is a need to know who's doing what: some collaborations exist between universities within and outside of Africa, but they are limited (not much interaction within Africa) and often 1:1
GOAL: To understand what are the needs that pertain to African countries and beyond related to design for sustainable development; and determine what we should do to address them
RESEARCH QUESTIONS

How can design science research and education improve current ways of meeting sustainability challenges in global development?
In what way can design science research and education be enriched through engaging in global sustainable development?
PANELIST PRESENTATIONS
SPEAKER 1
Gabriel Dinda (Strathmore University, Kenya)
Responsible Design: A Game of Hope for Africa
What do you think when you think about Africa? Animals, wildlife, civil wars? Or the rising sun: representing the potential for Africa to leapfrog development using sustainable development goals?
Africa is the "morning sun just rising" the decisions we make in the morning determine the evening usage of the sun
In Africa: challenges with employment for young people. 70% of young people in Africa are not engaged in any meaningful employment, which opens them up to opportunities that make them vulnerable
Initiative at Strathmore to teach employability skills, but skills for identifying and handling policy challenges that come their way (e.g., green energy) would be more useful. This is the future and we should invest in it!

Necessary to incorporate into organizations and invest in the people
SPEAKER 2
Chris McMahon (University of Bristol, UK)
The big picture: "facts are uncertain, values in dispute, stakes high and decisions urgent (Funtowicz and Ravetz)"
Science works when the problems are well defined; these [sustainable development] challenges are existential "post-normal science"
Our economic activities involve material flows from sources to sinks. Energy is the lifeblood of these flows! Many materials stay in use for years, but we have constraints at each end of the flows (e.g., climate change, soil quality, waste, etc.)
URGENT NEED FOR ACTION! But, incommensurate world views:

E.g., Ecocentrism → Technocentrism
Deep ecology/Communalism → Accommodation/Cornucopian
Extreme preservation/Resource preservation → Resource
conservationist/Resource exploitative
People will change when we can offer something better! But it's not so easy…

E.g., to replace UK car fleet with electric vehicles requires two times the total annual world cobalt production, the entire world production of neodymium, three-quarters of the world's lithium production...and half the world's copper production during 2018

Going "low tech":

Can't keep going on with high tech because resource issues prevent it (due to the need for rare metals)
Reference:

The Low Tech Age: Towards a Technically Sustainable Civilization (Philippe Bihouix)
EMAIL FOR TRANSLATION OF BOOK

Principles of simple technologies:

Question the need
Design and manufacture for true sustainability
Orient knowledge towards an economy of resource use
Search for the balance between performance and conviviality
De-localize without losing the good effects of scale
De-automate services
Know how to remain modest
To conclude:
This is not a conventional "problem to solve," but rather a predicament to face
Cornucopian and dystopian ideas are not helpful. We need to experiment and explore to find a middle ground
Adopt precautionary principles
Critically examine conventional wisdom and be prepared to counter more radical departures from business as usual
Design can contribute to any approach but we should be more than technicians: design thinking, together with systems, lifecycle, and new social-economic thinking, can provide tools for the post-normal world
SPEAKER 3
Susanne Nilsson (KTH, Sweden)
Grand challenges of our time are expressed by the UN Sustainable Development Goals
Shared by all countries
Universities have a role in initiating
KTH Global Development Hub: A scalable platform for engaging in global development engineering through cross-cultural and cross-disciplinary education
Challenge driven education that integrates challenges related to UNSDGs into regular curricula at US, EU, and African partner universities (typically, traditional teaching/education in Africa and elsewhere)
Wide range of openendedness and complexity
SPEAKER 4
John Clarkson (University of Cambridge, UK)
Developing a Systems Approach for Healthcare in LMIC
Systems thinking/systems engineering in healthcare is not a global approach
GOAL: to work with the health and care professions to explore how engineers can add to current understanding and practice
Systems Vee can be distilled into four elements systems, people, design, and risk  and a set of questions about those elements
Radical thinking:

Engineers think about people
Iteration before implementation
Design is an exploratory process
Risk management is a proactive process
Thinking changes practice, the process helps
Common sense is not common

Issue of TRANSLATING systems thinking/systems engineering assumptions, concepts, values, practices in order to globalize

Challenges: language and constructs, culture and context, politics and power, etc.

Instead of asking questions, get people to TELL STORIES

Ask questions about the people who tell stories
TRUE PARTNERSHIP required (learning from each other)
 
BREAKOUT SESSION 1: Problems/Challenges
Codesign/holism with stakeholders

Understanding needs, requirements, etc.
Developing an understanding for a holistic approach

Education

Designing a way for environmentally-oriented people to train for action

Matching skills with opportunities
Connecting professors/expats; improving communication
Designing versatile products
Evaluating interventions
Integrating research teams with government/policymakers
Self-empowerment of local communities
Knowledge and resource sharing
Integrating conflicting objectives
Behavior change
Specific products/issues

Health
Waste treatment
Cooking
Farming
Mobility
BREAKOUT SESSION 2: Critical Actions
Form codesign teams to explore/understand needs, constraints, contexts, etc.
Educate children/future generations through curriculum development and teacher training
Narrow problem scope
Engage stakeholders
Reduce needs for resources and production by sharing, optimizing, and integrating
Engage social and behavioral scientists for mind/behavior change
Incentivize sustainable behavior
Redefine education to enable change

Broaden the idea of education to include society at large (not just "students")
"University+"

"Measure" sustainability